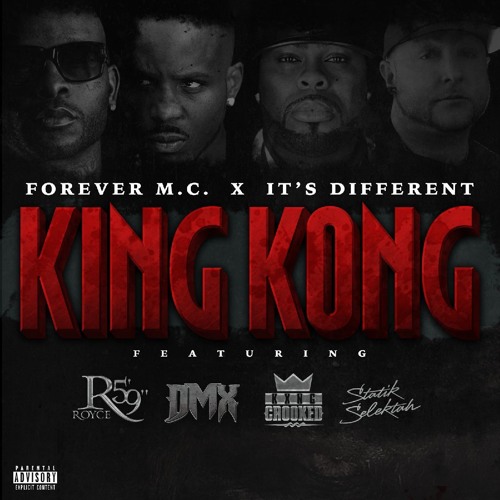 Forever M.C. Compilation Featuring Wu-Tang Clan, Snoop Dogg, Tech N9ne, Lupe Fiasco, Talib Kweli, The Game, E-40, Kool G Rap, DMX, Hopsin & Royce 5'9" Will Be Released On

3-30-18
"King Kong Ain't Got Sh*t On Me"
The Emcee and Production team of Forever M.C. & It's Different have joined forces with some of Hip-Hop's most elite artists in the game to bring the world the unprecedented soundscape for the
3-30-18
release of
Forever M.C.
compilation on RBC Records.
You can never have too much DMX in your life, so go behind the scenes with X and Forever M.C. in the making of their new hit single, "King Kong" off the highly anticipated debut album
Forever M.C.
Pre-orders for Forever M.C. are now available at iTunes, purchase now and receive "Terminally Ill" & "King Kong" as instant grat tracks:
here
Tracklisting & Credits For Forever M.C.
1. 'Girls Gone Crazy' feat. Snoop Dogg & Kurupt
2. 'Back On Our Shit' feat. KXNG Crooked & Horseshoe Gang
3. 'Assassins Creed' feat. Tech N9ne, Token & Passionate MC
4. 'King Kong' feat. DMX, Royce Da 5'9", KXNG Crooked & DJ Statik Selektah
5. 'School' feat. Lupe Fiasco, Talib Kweli, Hus Kingpin & Rozewood
6. 'Terminally Ill' feat. Tech N9ne, KXNG Crooked, Chino XL, Rittz & DJ Statik Selektah
7. 'Vendetta' feat. Ras Kass, Planet Asia, Chuck D & Bronze Nazareth
8. 'Bring It Back' feat. E-40, Mod Sun & Chris Webby
9. 'Piranhas' feat. Wu-Tang Clan
10. 'Loyalty' feat. Kool G Rap, Chris Rivers, Cormega, KXNG Crooked & Whispers
11. 'Lights Out' feat. Hopsin, Passionate MC & The Boy Illinois
12. .'My Way' feat. The Game & KXNG Crooked